Visitors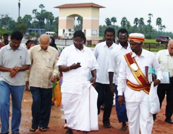 Parliamentary Committee Members visit to TEV. The Rajyasabha MPs and the Tsunami Relief Committee members of Rajyasabha secretariat visited our Elders?village. The Cuddalore and Puducherry Collectors accompanied. Shri. Narayanasamy MP of Puducherry and Shri.Amith Muhund MP of West Bengal distributed OAP sanction letters to 3 TEV Elders, Vairakkannu, Vadivel and Elayee.
They visited all the residential areas, released Ducks in the Pond and had discussed with the residents.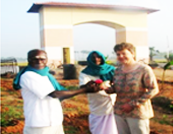 Val Stevens from HAI visit. Val Stevens from the HelpAge International UK visited TEV and had a chat with elders. She visited all the residential areas and enquired all about the daily activities, care, food provided to them. She was accompanied by Mr. D. Rajeshwar, Head (SP & E).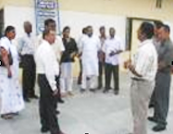 SAARC member countries delegates visit TEV. An International evaluation team of 12 members from Bhutan, India, Nepal and Srilanka lead by Dr.E.V.Prakash Rao of NIRD visited TEV. They discussed on the Elders village concept, HelpAge India?hievements in Tsunami Rehabilitation, Disaster Management and Mitigation techniques. Residents gave a warm welcome to all the delegates and were taken to their residence, explained them on active living and ageing processes in TEV.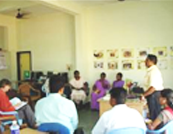 Ms. Elizabeth Coates, Manager- International Affairs of Help the Aged ?UK visited TEV. She stayed here for 2 days. Dr.Jaideep, Director ?Health, HI, NewDelhi and the Project Kiran team of PMO Cuddalore arranged her programme of schedule. Presentations on TEV, CRCE were arranged. She visited all the service villages and patients cared under Project Kiran. She was impressed on the cultural programmes arranged at villages to create awareness on palliative care for terminally ?patients.
Independence Day Function: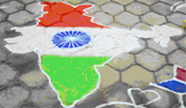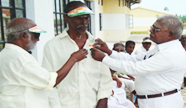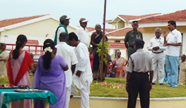 It was announced that in the next Independence day , the best three active, supportive to others elders, kind elder will be selected and honored in the function in a big way.
Mr. P.C Sen?sit: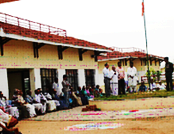 Mr. P.C. Sen, GB Member, has arrived TEV at 1.30pm on 14th August 2009 with Mrs. Binoo Sen.. They had lunch with residents.
We (I, Sathya Babu and Elango) made presentation on TEV, CRC(EfE) and Palliative Care.
He appreciated all our work and taken the soft copy of the presentations. They have also taken all our brouchers/books/phamlets and training module of volunteers ?Palliative Care.
IInd Anniversary Day Function: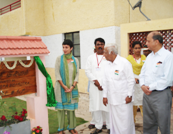 On 11th October 2009, the Valedictory Function of World Elders Day Celebrations and 2nd Anniversary Function of Elders for Elders Foundation was conducted at HelpAge India?maraikulam Elders Village at 4pm to 7pm.
Mr. D. Napoleon Visit: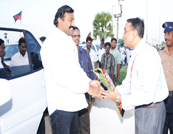 The function was presided over by Mr. S. Natarajan, District Revenue Offic er, Cuddalore in the presence of HelpAge India Chief Executive Officer Mr. Mathew Cherian, Honorable Minister of State for Social Justice & Empowerment Mr. D. Napoleon delivered the Chief Guest Address and also inaugurated the vocational training centre for elders.
More...